Body Contouring & Cellulite Reduction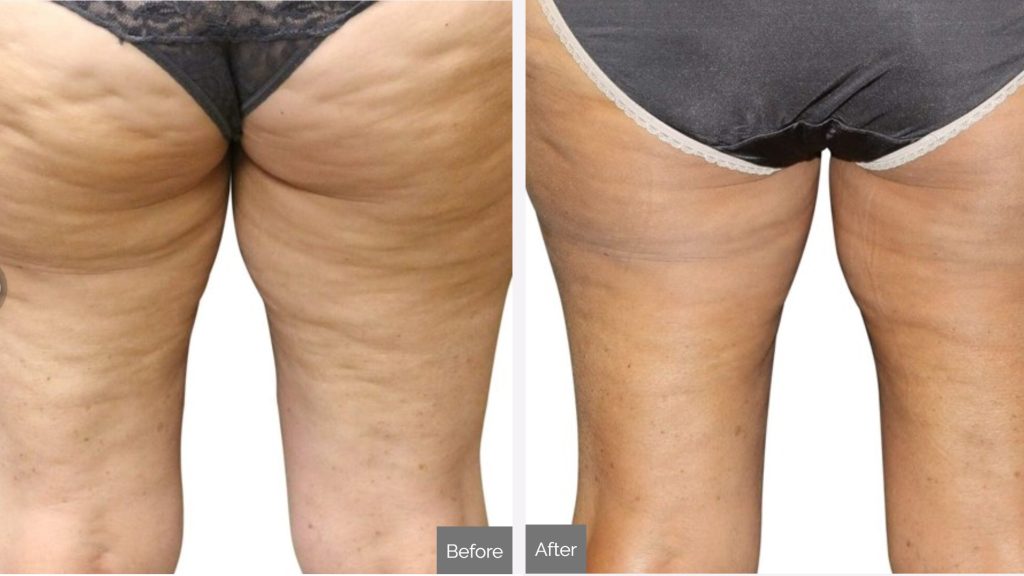 Regardless of the shape of your body, diet, skin tone or exercise regimen, losing fatty deposits can become difficult with age. Cellulite tends to develop with age as well. Venus Legacy and Venus Freeze are two unique body and facial contouring treatments that reduce inches. This non-invasive treatment can create slimmer contours and diminish or smooth cellulite.
Reger Vein and Skin Specialists, led by Dr. Gregg Reger, provides innovative and advanced body contouring treatment options and various other medical spa services to patients in The Woodlands, Spring, Houston, TX, and surrounding locations.
Understanding Venus Freeze
Venus Freeze is used for treating wrinkles, reducing cellulite, tightening skin and eliminating circumferential fat. The device uses (MP)2 technology, which is a combination of Multi-Polar Radio Frequency and Pulsed Magnetic Fields. It delivers the energy within the skin to produce a uniform and dense heat matrix.
This causes fibroblast proliferation, collagen production and contraction, lipolysis, and neo-vascularity. The treatment allows for a firmer, smoother, and more toned you.
How Does it Work?
Wrinkle Reduction and Skin Tightening
Venus Freeze involves delivering multi-polar radio frequency that creates a thermal response, which activates the natural healing response of the body. New elastin fibers and collagen are formed, which increases the production of fibroblasts. Existing collagen within the skin contracts, while providing a firmer and newer looking skin. It also causes elastin fibers to unravel making the skin more elastic.
Body Contouring and Cellulite Reduction
The body releases stress hormones with an increase the skin temperature. These hormones attach to specific receptors on fat cell membranes present in the deeper layers of the skin. Hormone-sensitive lipase is activated when the stress hormone gets attached to the receptor. Triglycerides are broken down by lipase into free fatty acids. The free fatty acids exit through the bloodstream and reduce the volume of fat cells.
Understanding Venus Legacy
Venus Legacy is a nonsurgical and highly advanced device that resolves aesthetic concerns of the face and body. This includes nonsurgical cellulite reduction, circumferential reduction, wrinkle reduction, and skin tightening. The treatment is comfortable and doesn't involve any downtime.
Therapeutic heat matrix is produced by Venus Legacy over the skin. Thermal reaction is created under the tissue which stimulates the natural healing response of the body. It increases blood circulation which causes the skin to contract. This creates noticeable skin tightening and a reduction of cellulite. The procedure also decreases localized fat deposits to make the area look firmer and smoother.
Mp2 technology powers Venus Legacy, which is a combination of pulsed electromagnetic fields and multi-polar radiofrequency. It features the Varipulse technology.
There are four applicators on Venus Legacy:
Octipolar
Diamond Polar
4D Body For Larger Areas
4D Face For Smaller Areas
Octipolar and Diamond polar applicators are useful in wrinkle reduction and skin tightening. 4D body and 4D face applicators help in temporary cellulite reduction and circumferential reduction. Venus Legacy treatments take about 30 – 40 minutes and are reported by most patients to be a relaxing experience.
Reger Vein and Skin Specialists receives patients from The Woodlands, Spring, Houston, TX, and nearby areas for body contouring treatments and various other medical spa services.
For More Information contact Reger Vein and Skin Specialists in The Woodlands, TX
For more information on procedures and treatments offered by Board Certified Phlebologist Dr. Gregg Reger at Reger Vein and Skin Specialists please call 832-585-0090 or click here to contact our team. Helping patients in Houston, The Woodlands, Springs, Katy and other surrounding areas of Texas.