Lip Enhancement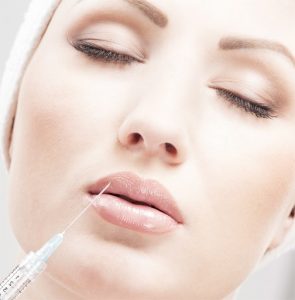 Medical spa experts often use several FDA-approved dermal filler injections to rejuvenate facial appearance. Juvederm and Restylane are the most sought after cosmetic filler injections and they are mostly used to correct facial lines and wrinkles. If you have thin lips that detract from the attractiveness of your face, talk to your medical spa treatment provider about using these dermal fillers for a lip enhancement.  
Reger Vein and Skin Specialists, led by Dr. Gregg Reger, provides Juvederm and Restylane facial filler treatments to patients in Spring, TX, The Woodlands, and surrounding locations. 
Juvederm and Restylane for Lip Enhancement
Lip enhancement or augmentation is a cosmetic procedure used to make the lips appear plumper. It uses dermal fillers to lend greater volume, shape, and structure to your lips. Juvederm and Restylane filler injections help persons with unbalanced or uneven lips to attain lips that are fuller and more attractive.  
Juvederm and Restylane also help to enhance symmetry between the lips. They can give greater definition to the shape of your lips and give them a more youthful appearance.  
How do they Work?
Both Juvederm and Restylane facial filler injections contain hyaluronic acid as a key ingredient. This compound attracts moisture and retains it and also drives the skin to produce fresh collagen, resulting in fuller lips.  
The injections come in the form of a smooth gel. Medical spa treatment providers inject the gel to specific areas of the lip, using ultra-fine needles. The gel gets to work, filling in the wrinkles and lines on the lips, making them appear enhanced.  
By controlling the quantity of filler injected, the cosmetic expert can control the amount of lip volume that is created. Juvederm and Restylane injections are also available in combination with lidocaine. When this formulation is used, there is no need to separately administer a local anesthetic before the procedure. 
The effects of Juvederm and Restylane injections may last from six months to one year in most cases after the treatment.  
Why are Juvederm and Restylane Considered Safe?
Juvederm and Restylane contain hyaluronic acid, which is a natural sugar present in the human body. Its biological role is to lend volume and elasticity to skin, making it appear firm. Being made from a natural substance, Juvéderm and Restylane are biocompatible and therefore, totally safe for use. 
Persons who choose Juvederm and Restylane injections do not have to undergo any allergy testing. These injections are prepared using advanced manufacturing processes to yield a smooth gel that produces natural-looking, enhanced lips. 
What to Expect After Treatment?
Juvederm and Restylane injections do not cause any significant discomfort. The entire procedure generally requires about 30 minutes. The injection may be combined with Botox if you desire a result that is more dramatic.  
Effects of the treatment appear almost immediately and last for a long time. As the procedure involves so little downtime, medical spa experts recommend Juvederm and Restylane injections as the best lip augmentation procedure for working people and busy mothers. 
Dr. Gregg Reger receives patients from Spring, TX, The Woodlands, and nearby areas for Juvederm and Restylane dermal filler injections. 
For More Information contact Reger Vein and Skin Specialists in The Woodlands, TX
For more information on procedures and treatments offered by Board Certified Phlebologist Dr. Gregg Reger at Reger Vein and Skin Specialists please call 832-585-0090 or click here to contact our team. Helping patients in Houston, The Woodlands, Springs, Katy and other surrounding areas of Texas.