EuroThreads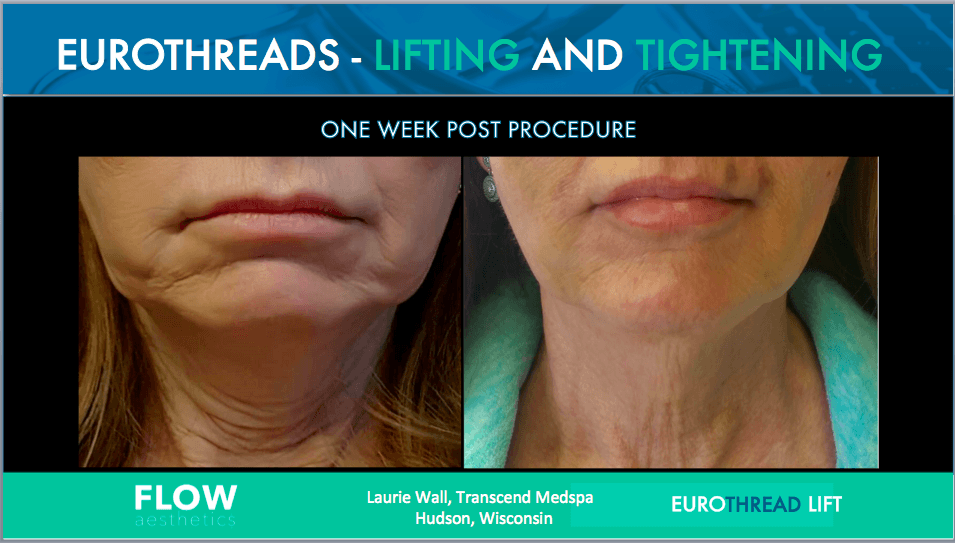 The EuroThread lift is a minimally invasive facelift that will tighten, contour, and smooth the face and neck by strategically placing dissolvable threads, which are inserted under the skin. Youthful looking skin, supple skin texture and firmness will be restored in areas where sagging and volume loss has occurred.
The body's natural collagen and elastin production is stimulated in the targeted treatment areas. This procedure can be performed in-office which provides immediate results. These results improve with time and require minimal downtime.
Reger Vein and Skin Specialists, led by Dr. Gregg Reger, provides skin tightening and wrinkle reduction with EuroThreads to patients in The Woodlands, Spring, Houston, TX, and surrounding communities.
Basics of EuroThread Lift Procedure
EuroThreads are a type of dissolvable threads that are inserted under the skin for lifting the jowls, cheeks and neck bands. These threads consist of polydioxanone (PDO). This material has been in use in surgical procedures for 3 decades. The threads are placed under the skin by inserting a needle. The thread remains behind when the needle is withdrawn.
EuroThreads stimulate collagen formation that makes the facial skin more elastic. They also diminish the appearance of wrinkles and fine lines. Over time, the skin's texture and quality are improved. The procedure adds volume to facial areas with laxity while providing a subtle lift.
Suture material used in the procedure will naturally break down gradually over a period of 6 – 8 months. However, results tend to last for about a year and half or even more.
Recovering from EuroThread Lift
EuroThreads medical spa thread lift generally doesn't require any downtime. However, this can vary among individuals. Mild soreness, swelling, and minor bruising are common post-procedure, but the symptoms will resolve on their own.
Targeted Areas
EuroThreads have demonstrated multiple aesthetic benefits in all areas of the neck and face. Typically, the more dramatic improvements are achieved in the bottom third of the face and neck. Cheeks and jowls are lifted for creating smoother and youthful looking contours. EuroThreads can be used for improving the following areas:
Saggy cheeks
Wrinkles and fine lines
Saggy or loose neck area
Jowls or saggy jawline
Smoker lines
Necklace line
Décolletage
Vermillion Lip or Border
Duration of Procedure
Duration of EuroThreads medical spa thread lift treatment differs depending on the number of areas being treated. The procedure may take as little as 15 minutes. However, complex cases may require an hour or longer.
Key Benefits
These are a few benefits of thread lift with EuroThreads:
Instant Results
The procedure provides instant results without hospitalization, general anesthesia, or extended recovery period. It provides an immediate boost for correcting the appearance of severe or moderate wrinkles. Treatments are effective in both the body and face.
Non-Surgical
This is a minimally invasive, in-office procedure for promoting the body's natural elastin and collagen production. There is an increase in blood flow and lymphatic circulation by the insertion of threads. This stimulates the body in producing elastin and collagen naturally.
Minimally Invasive
A thread lift with EuroThreads reduces the appearance of facial aging by inserting the threads under the skin. They act as a support system. You can notice sustainable results from this dermis augmentation after 4 to 6 weeks.
Reger Vein and Skin Specialists, led by Dr. Gregg Reger, receives patients from The Woodlands, Spring, Houston, TX, and nearby areas for skin tightening and wrinkle reduction with EuroThreads thread lift.
For More Information contact Reger Vein and Skin Specialists in The Woodlands, TX
For more information on procedures and treatments offered by Board Certified Phlebologist Dr. Gregg Reger at Reger Vein and Skin Specialists please call 832-585-0090 or click here to contact our team. Helping patients in Houston, The Woodlands, Springs, Katy and other surrounding areas of Texas.