Latisse 
Before And After Photos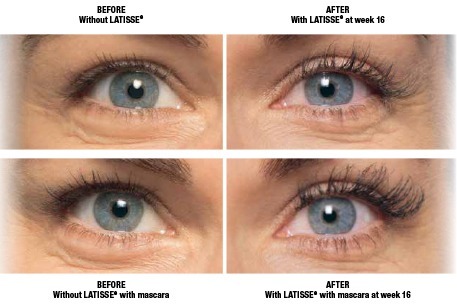 Latisse is an FDA approved prescription treatment used to grow eyelashes. Some experienced medical spas also promote it for the off-label use to enhance growth of the eyebrows. When you consult with a med spa for this procedure, ask to see their Latisse for thicker eyebrows before and after photographs. 
This will help you assess how effective the treatment is, and to decide if it will meet your particular eyelash growth requirements. Reger Vein and Skin Specialists, led by Dr. Gregg Reger, provides Latisse eyelash growth treatments to patients in Spring, TX, The Woodlands, and surrounding communities.  
How are Latisse Eyebrow Before and After Pictures Taken?
When a patient agrees to undertake the Latisse procedure, the med spa treatment provider will take images of the eyebrows before the beginning of treatment. As per standard protocol, the patient's consent will be obtained before taking these pictures and their identity will be kept undisclosed. 
Photographs may be taken at different stages of the treatment and also after successful completion of the treatment. These Latisse before and after photos are meant for use as visual tools only for the purpose of educating prospective patients.  
Most med spas that offer Latisse treatment for eyebrows will show you their collection of Latisse eyebrow before and after photos when you visit them for the initial consultation.  
Some medical spa Latisse treatment providers share the Latisse eyebrow before and after photos on social media platoforms such as Facebook, Pinterest, and Instagram. This allows you to view the pictures in the privacy of your office or home even before you visit the med spa to consult with an expert. This is the awesome nature of digital imagery – you can see these images with amazing clarity and because of internet technology you can do it from an island on Tahiti or at a restaurant before you watch a movie, for instance.  
Why You Should Look at Latisse Before and After Pictures?
When a med spa Latisse treatment provider explains the procedure, it may be difficult for you to visualize the type of change that you may expect. It is possible that you may not realize the full impact of the treatment, or that you may have unrealistically high expectations of the treatment. When you look at Latisse before and after images, you can see the exact nature of the changes the treatment produces, and this enables you to make the right choice. 
Latisse is FDA approved for eyelash growth. However, its use on eyebrows is a novel, non-label treatment. Looking at the Latisse for thicker eyebrows before and after photos can address any concerns you have about the procedure's safety and efficacy.   
By looking at Latisse before and after images, you will also find it easier to decide if you need to undertake the full course of treatment for eyelashes and eyebrows, or if a short term treatment will give you the results you want. There's only one image of this particular surgery on the site now but that does not mean more cannot be uploaded at any time. You can possibly see more during the consultation which is critical anyway, as already mentioned. 
Patients who undertake the Latisse for thicker eyebrow growth treatment with a clear aesthetic goal are more likely to achieve greater satisfaction from the procedure. Browsing through Latisse before and after photographs can help you form realistic expectations so that you do not end up disappointed at the end of the entire course of treatment. 
Dr. Gregg Reger receives patients from Spring, TX, The Woodlands, and nearby areas for Latisse eyelash growth treatments. 
For More Information contact Reger Vein and Skin Specialists in The Woodlands, TX
For more information on procedures and treatments offered by Board Certified Phlebologist Dr. Gregg Reger at Reger Vein and Skin Specialists please call 832-585-0090 or click here to contact our team. Helping patients in Houston, The Woodlands, Springs, Katy and other surrounding areas of Texas.