Non-Surgical Facial Rejuvenation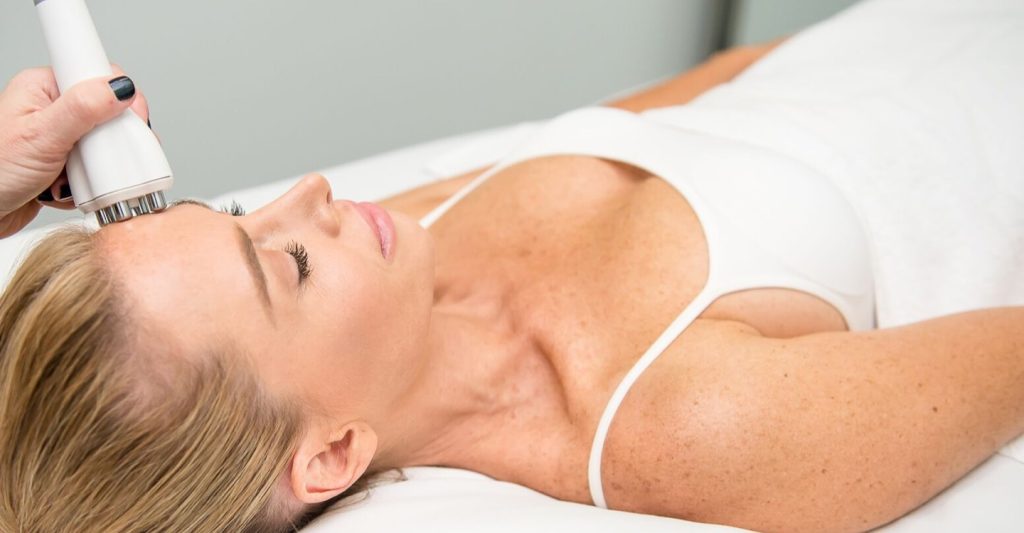 Your skin will start producing less collagen as you get older. This will eventually lead to sagging skin, jowls, fine lines, wrinkles, and other signs of facial aging. Venus Legacy makes use of heat for naturally boosting collagen production and breaking down fat cells that tighten facial skin and lifts thinning cheeks and droopy eyes.
Venus Legacy treatment can make your face appear more refined and sculpted. The procedure can reduce fine lines while making the face more radiant, plumper, and lifted with no pain and downtime in a completely non-invasive manner.
Reger Vein and Skin Specialists, led by Dr. Gregg Reger, provides non-surgical body contouring for loose or sagging skin to patients in The Woodlands, Spring, Houston, TX, and surrounding communities.
Venus Legacy Targeted Concerns
Venus Legacy medical spa procedure gives you the most modern way of fighting facial wrinkles and sagging skin among other sings of aging. The procedure doesn't take more than 30 minutes and can be integrated in your schedule easily. There is zero recovery time following the treatment.
You will notice visible results following the first session, which are achieved without any unpleasant sensation or pain. Most patients compare the sensation to getting a hot stone massage.
Benefits of Venus Legacy Facial Rejuvenation
Tightens facial skin
Improves skin elasticity
Reduces wrinkles and fine lines for smoother skin
Increases vitality and radiance
Can be used for treating individual parts, such as forehead, chin, eyes, neck and décolleté
How does Venus Legacy Device Work?
Venus Legacy medical spa procedure boosts elastin and collagen fiber production that causes the skin to become smoother and tighter. The results are maximized with a combination of four patented technologies (4D):
Multi-Polar Radio Frequency allows for evenly distributing heat between 4 internal and 8 external electrodes for stimulating collagen synthesis in multiple tissue layers.
Pulsed electromagnetic fields activate collagen, blood vessels and fibroblasts synthesis by releasing skin renewal ingredients (FGF2) for long term results.
Vari Pulse Vacuum helps in stimulating fibroblast production for improving blood circulation and lymphatic drainage.
RealTime Feedback provides you with precise monitoring of skin temperature during the treatment. This allows you to achieve best results with maximum safety and comfort for all skin types.
Candidacy for Venus Legacy
Venus Legacy is recommended for:
Adults wanting to maintain a youthful appearance
Patients that want to avoid surgery for maintaining youthful appearance
Adults seeking refreshed, rejuvenated, and regenerated face for an important celebration or event
Patients that want to reduce surplus fat or tighten facial skin
Highlights of the Treatment
Venus Legacy medical spa treatment is:
Safe for all skin types
The treatment makes use of radiofrequency technology that is proven to be effective and safe for all skin tones.
Very comfortable
The procedure involves advanced technology for increased comfort.
Without downtime
You can enjoy a comfortable and relaxing procedure without any downtime.
Focused on long term results
The procedure partners with the skin's natural abilities to encourage elastin and collagen production. This ensures long lasting, sustainable and natural looking results. Reger Vein and Skin Specialists, led by Dr. Gregg Reger, receives patients from The Woodlands, Spring, Houston, TX, and nearby areas for non-surgical body contouring for loose and sagging skin.
For More Information contact Reger Vein and Skin Specialists in The Woodlands, TX
For more information on procedures and treatments offered by Board Certified Phlebologist Dr. Gregg Reger at Reger Vein and Skin Specialists please call 832-585-0090 or click here to contact our team. Helping patients in Houston, The Woodlands, Springs, Katy and other surrounding areas of Texas.