Venus VIVA Skin Tightening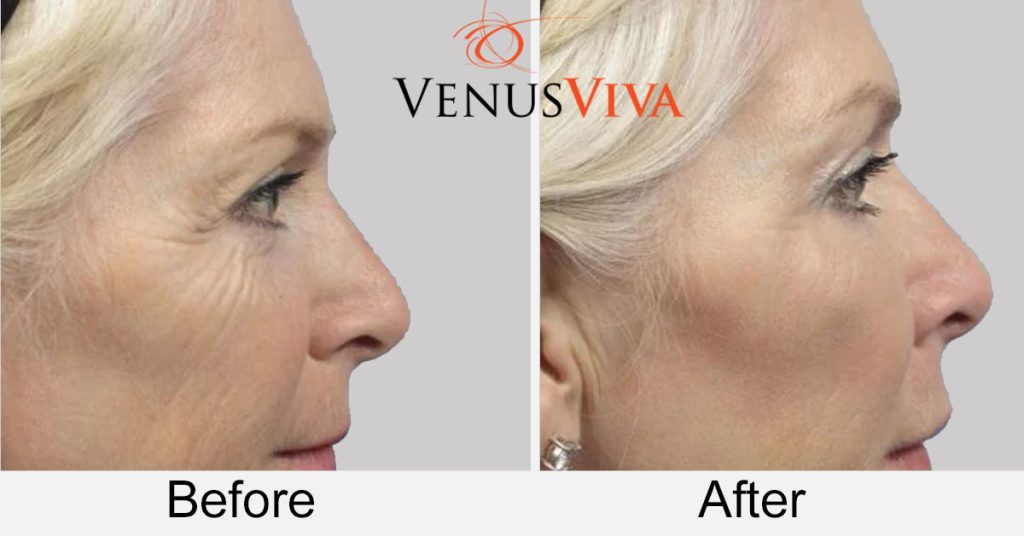 Neck skin can easily show signs of aging like facial skin. The muscles holding the skin can lose elasticity and weaken with age. This can result in sagging and wrinkled skin on the neck. This is also known as the 'Turkey Neck'. Surgical procedures and injectables in the past were the go-to solution for neck lift. This is not the case anymore. Venus Viva skin tightening and neck lift procedure can help you.
Reger Vein and Skin Specialists, led by Dr. Gregg Reger, provides non-surgical neck lift rejuvenation and skin tightening with Venus Viva to patients in The Woodlands, Spring, Houston, TX, and surrounding locations.
Venus Viva Non-surgical Neck Lift
Venus Viva neck lift is a non-surgical medical spa procedure that is useful in reversing the signs of aging. This is an innovative FDA approved procedure that involves 4D technology. The procedure can rejuvenate skin appearance by comfortably and safely heating the tissue under the surface of the skin.
Natural production of elastin and collagen is triggered by Venus Viva, which are the primary building blocks of a youthful and healthy skin. The result of the procedure is smoother, tighter, and younger looking skin.
Venus Viva Mechanism
Venus Viva handheld device employs micro-fractional pins. These are different from the needles used in procedures, like microneedling that work to puncture the skin for pinpoint bleeding. Micro-fractional pins in Venus Viva deliver nano-fractional RD energy deep under the skin.
Tiny, micro-dermal perforations or wounds are created by these pins in the skin's surface. This allows for even distribution of heat deep inside the skin. The RF energy works to kickstart the natural healing process of the skin through skin contraction, exfoliation, and long-term collagen remodeling in the treated areas.
What is DiamondPolar Skin Tightening?
Venus Viva medical spa treatment targets neck bands, neck lines and skin laxity in the neck using the DiamondPolar applicator. This applicator makes use of Pulsed Electro Magnetic Fields along with Multi-Polar Radio Frequency for uniformly heating the skin. This helps in forming new collagen and elastin fibers that result in smoother and firmer neck skin.
Venus Viva for Improving Skin Texture and Tone
Venus Viva is a non-surgical and advanced solution for skin resurfacing that improves the overall skin texture. It combines two innovative and proprietary technologies for providing brighter, smoother, and healthier skin. The procedure reduces the signs that affect the texture of the skin.
This includes scars, skin damage, stretch marks, wrinkles, large pores, and rosacea. Venus Viva covers a greater surface area and treats several issues with its unique design.
Safe for All Types of Skin
The treatment is safe and effective for all seasons on all skin tones and types. However, patients are recommended to keep clear of the sun.
Downtime
You may experience mild redness following the treatment. However, you can immediately continue with your daily activities afterward.
Duration of Treatment
A single session will not last longer than 30 to 40 minutes.
Recommended Frequency
You may receive 3 to 4 sessions at a gap of 4 to 6 weeks.
Reger Vein and Skin Specialists, led by Dr. Gregg Reger, receives patients from The Woodlands, Spring, Houston, TX, and nearby areas for skin tightening and wrinkle reduction with non-surgical neck lift rejuvenation and skin tightening with Venus Viva.
For More Information contact Reger Vein and Skin Specialists in The Woodlands, TX
For more information on procedures and treatments offered by Board Certified Phlebologist Dr. Gregg Reger at Reger Vein and Skin Specialists please call 832-585-0090 or click here to contact our team. Helping patients in Houston, The Woodlands, Springs, Katy and other surrounding areas of Texas.