Get Rid of Fat Pockets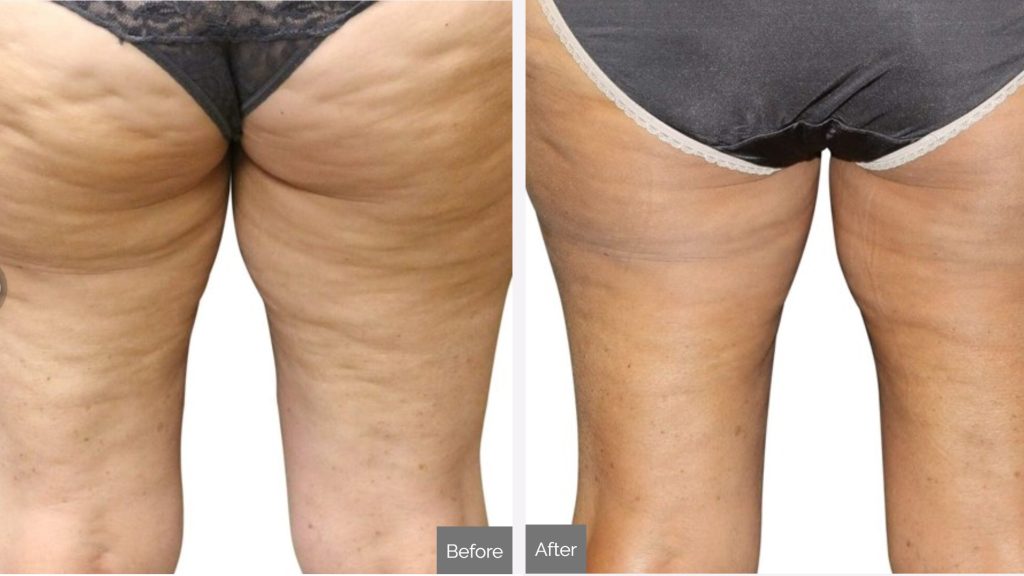 Regardless of one's body shape, skin tone, diet or exercise regimen, it becomes challenging to lose fatty deposits with age. Cellulite may also develop.
Venus Legacy presents a non-surgical facial and body contouring treatment that helps reduce inches as well as smoothes and diminishes cellulite.
Reger Vein and Skin Specialists, led by Dr. Gregg Reger, provides Venus Legacy and other medical spa treatments to patients in Spring, TX, The Woodlands, and surrounding locations.
Pain-Free
At last, there is a non-invasive, painless treatment that actually works! This procedure uses Radio Frequency, Magnetic Pulse Therapy and VariPulse technology to treat various issues concerning the body, such as:
Reducing inches
Smoothing dimpled skin
Reshaping and re-contouring
What is Venus Legacy?
Venus Legacy is the most powerful, deepest, and largest device available to patients for the treatment of issues such as loose skin, cellulite, and stretch marks.
This system is an improvement on its predecessor Venus Freeze and uses a patented technology which is a combination of multi polar radio frequency (RF) as well as pulsed magnetic fields (MP)².
This unique blend of energies works to effectively deliver dramatic clinical outcomes on the body for cellulite and circumference reduction as well as skin firming. In addition, it provides patients with a dazzling complexion by reducing facial lines, wrinkles, and sagginess.
Venus Freeze technology helps the skin generate a dense and even heat matrix which leads to collagen synthesis and contraction, neovascularity, fibroblast proliferation, and lipolysis.
How does it Work?
Venus Legacy is based on a patented technology, which is a combination of RF as well as (MP)². The Venus (MP)2 technology utilizes a dense energy matrix. This penetrates multiple skin layers and heats the skin evenly from the inside out.
The increase in tissue temperature enhances the FGF-2 hormone activity and breaks down the triglycerides found in the fat cells. This frees fatty acids from the fat cells and decreases volume, which reduces the body circumference.
It also enhances the blood supply in the treated site as well as improves the skin tone and texture. An increase in the blood flow to the treated area also helps vitamin, minerals, and oxygen reach the cells more easily while toxins and waste substances are eliminated.
Another benefit of this procedure is skin tightening. Small new blood vessels develop in the treated site, and dermal fibroblasts develop, which helps increase the number of collagen and elastin fibers. The production of fresh collagen and elastin leads to firmer skin and the filling in of wrinkles or wrinkle reduction.
Does it Hurt?
No. This procedure is designed to be painless. The applicators deliver heat underneath the skin to disintegrate deep-levels of fatty tissue. Some people even find the procedure relaxing and comforting.
Is it Safe?
Yes. Radio Frequency and Magnetic Pulse Therapy have been utilized in the area of medicine for a number of years. These technologies have been approved by the FDA and have been proven to be safe and effective.
Is there any Downtime?
Venus Legacy does not involve any downtime. The time taken to treat one area is under 30 minutes and does not have any adverse side-effects. The patient can undergo the procedure during their lunch break and return to their workplace right after the treatment and be as productive as usual.
Will it just Improve Water Weight?
No, Venus Legacy is unlike other procedures that may impact water but not actually get deep into the fat cells. It does not affect the water content in the cells but targets the fat molecules found deep under the skin's surface.
Dr. Gregg Reger receives patients from Spring, TX, The Woodlands, and nearby areas for Venus Legacy and other medical spa treatments.
For More Information contact Reger Vein and Skin Specialists in The Woodlands, TX
For more information on procedures and treatments offered by Board Certified Phlebologist Dr. Gregg Reger at Reger Vein and Skin Specialists please call 832-585-0090 or click here to contact our team. Helping patients in Houston, The Woodlands, Springs, Katy and other surrounding areas of Texas.