Juvederm Dermal Filler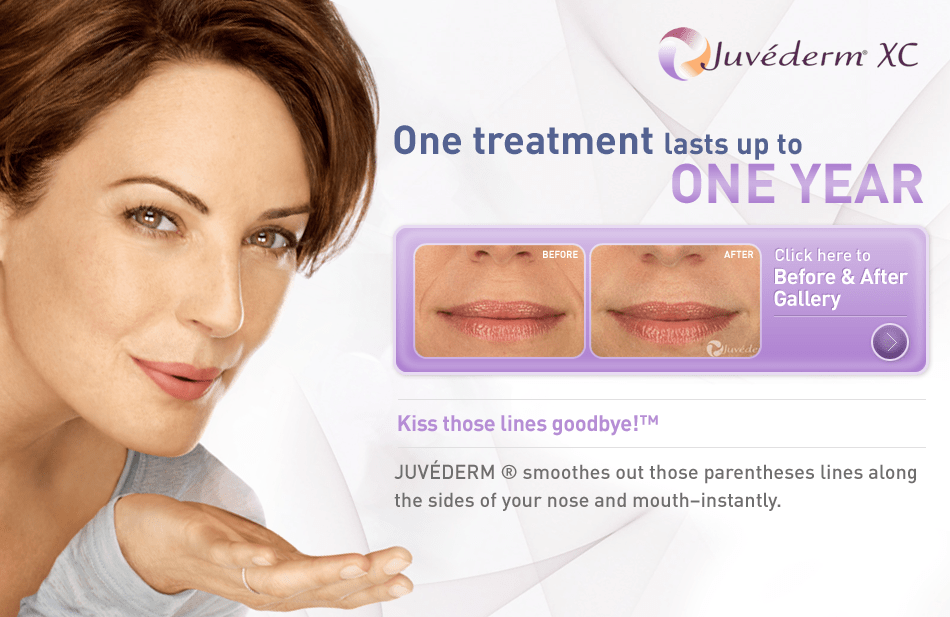 Your facial appearance creates the first and lasting impression about your age. A face with several lines and wrinkles can make you look older than your years. Juvederm dermal filler injections are one of the non-invasive treatment methods to reduce such lines and wrinkles and give you a younger appearance.
Juvederm injections give instant results making your skin firmer and tighter and remove the wrinkles and lines on any part of the face. Reger Vein and Skin Specialists, led by Dr. Gregg Reger, provides dermal filler injections and other medical spa treatments to patients in Spring, TX, The Woodlands, and surrounding communities.
Areas of Treatment with Juvederm
Juvederm filler can be used for the following purpose:
To remove wrinkles and lines from the forehead, nose, and mouth areas
To add fullness to hollow cheeks
For improving the appearance of the lips and nose by reducing nasolabial folds
To mitigate the visibility of acne scars
To improve facial contours
Juvederm dermal injections are FDA-approved for in-office administration. Treatment with this filler does not require anesthesia or sedation.
Customized Injection Procedure
When you consult a Juvederm dermal filler service provider, they will assess the condition of your face, and recommend the right treatment for giving you the best results.
For some patients, this may mean only Juvederm filler injections. For others, it could be Juvederm in combination with other non-surgical procedures such as Botox to reduce signs of aging.
Application of Juvederm Injections
Some of the customized uses of Juvederm include the following:
Improvement of Laugh Lines
Laughter causes muscles in the mouth region to move in a particular manner, leading to laugh lines. However, in some persons, these lines become so prominent that they are visible even when the muscle does not move.
Juvederm can work to soften such laugh lines without the use of surgery. Some cosmetic surgeons may advise the use of Juvederm in combination with Botox if the lines are deep and the skin of the patient will support such treatment.
Lip Augmentation
Thin and asymmetric lips often detract from facial appearance. Such persons can undergo treatment with Juvederm filler to give their lips a more defined and voluptuous appearance. This treatment is also used to improve lip symmetry.
Eye Bag Reduction
Bags under the eyes give an aged look to the face. As soon as the puffiness begins to set in, you can choose to undergo Juvederm filler injection treatment to smoothen out the area. This takes away the eye bags and you need not depend on make up to hide the under-eye puffiness.
Nose Reshaping
While rhinoplasty is often used to reshape the nose, treatment with dermal fillers like Juvederm along with Botox provides a simpler, non-surgical alternative. Minor imperfections in the nostrils and nasal tip or small nasal bumps can be corrected by Juvederm injections.
Cheek Filling
With age, the cheeks begin to sag because they lose volume. Juvederm dermal filler injections help to give fullness to the cheeks by subtly lifting the cheekbones.
Reger Vein and Skin Specialists receives patients from Spring, TX, The Woodlands, and nearby areas for various medical spa procedures, including Juvederm facial filler.
For More Information contact Reger Vein and Skin Specialists in The Woodlands, TX
For more information on procedures and treatments offered by Board Certified Phlebologist Dr. Gregg Reger at Reger Vein and Skin Specialists please call 832-585-0090 or click here to contact our team. Helping patients in Houston, The Woodlands, Springs, Katy and other surrounding areas of Texas.