Juvederm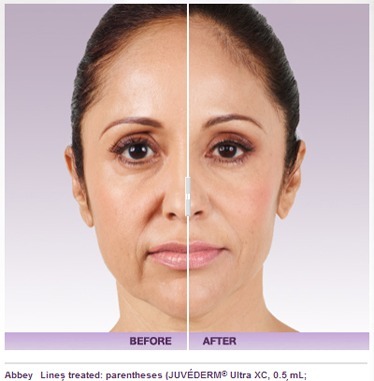 Juvederm is one of the more popular FDA-approved dermal fillers available today. This medical spa injectable filler has been developed to mitigate signs of facial aging in a safe, efficient, and non-surgical manner.
The treatment aims to address the aesthetic requirements of patients who want to mitigate the appearance of creases, wrinkles, and fine lines from their face with a non-invasive, in-office procedure.
During the initial consultation, the provider will inform the patient on various facets of Juvederm injectable dermal filler and assist them in making a well-considered decision. Reger Vein and Skin Specialists, led by Dr. Gregg Reger, provides Juvederm injections to patients in Spring, TX, The Woodlands, and surrounding locations.
How does Juvederm work?
The Juvederm dermal filler gel is directly injected into the facial treatment sites using a very fine needle. Juvederm filler gel will address moderate to severe skin folds and wrinkles which may be present around the mouth, nose, and other facial areas.
Juvederm gel enables the skin to appear plumper and fuller almost immediately. This dermal filler offers fullness to depleted sites of the skin, and aging signs are smoothened.
Juvederm promotes the production of new collagen fibers in the deep facial tissue layers to generate more sustainable and natural looking outcomes from the inside out. A key benefit of Juvederm dermal filler is that it contains hyaluronic acid (HA). This is a compound that occurs naturally in human skin. HA has the ability to restore lost skin volume.
If facial skin starts losing volume because of aging or other reasons, Juvederm HA-based filler can replenish the volume instantly. This procedure can also be used for lip augmentation. Juvederm dermal fillers do not involve any cuts, incisions, or plastic surgery.
Purpose of Treatment
Juvederm can help in the restoration of the natural facial contour, smooth undesirable wrinkles, and lines, and enhance lips to offer a more youthful look to the face. This injectable dermal filler procedure can be used for the below-mentioned purposes:
Mitigate the appearance of nasolabial folds and smooth lines around the mouth and nose.
Increase the size and improve the shape of lips.
Refine the appearance of laugh lines.
Minimize the appearance of crow's feet around the eyes.
Replenish volume to the cheeks to create a fuller facial profile.
Static facial lines that are apparent even when the face is still and without expression can be addressed adequately with Juvederm. This medical spa filler can also help lips appear softer and fuller.
Outcomes
One Juvederm treatment session can last between 15 and 30 minutes. A majority of patients only require one session to attain desired outcomes. Juvederm has an effective formulation that allows the outcomes to sustain for up to one year, unlike various other fillers.
The gel is injected right into the affected facial site via a fine needle which minimizes injection discomfort. The Juvederm gel typically includes local anesthesia to ensure that the patient remains comfortable during the procedure. Dr. Gregg Reger receives patients from Spring, TX, The Woodlands, and other cities and towns in the glorious state of Texas for Juvederm injectable treatment.
For More Information contact Reger Vein and Skin Specialists in The Woodlands, TX
For more information on procedures and treatments offered by Board Certified Phlebologist Dr. Gregg Reger at Reger Vein and Skin Specialists please call 832-585-0090 or click here to contact our team. Helping patients in Houston, The Woodlands, Springs, Katy and other surrounding areas of Texas.